I'm attracted to gay men. There. I said it. It's not that I actively seek men whom I know are gay, but when I see an attractive man on the street—a double-take-worthy guy—I can almost bet if he thought of sleeping with me it would be because we were seated next to each other on an overnight flight to Milan and simultaneously took an Ambien.
I have horrific Gaydar. I am completely unaware that the handsome man I'm checking out would rather have a cavity filled than do the deed with me. I recently had a gay friend of mine tell me, "Honey, you're always barking up the wrong tree." He said this after I pointed to a gorgeous man seated near us in a restaurant. I somehow failed to notice he only had eyes for the equally impressive younger male seated next to him.
OK, I thought it might be his son.
Yes, I saw the mascara.
This is nothing new. I was STUNNED to find out Boy George was gay. I grooved to "Karma Chameleon" in 1983 and imagined dating him. Finally, someone who understood the importance of eyeliner! Yes, he wore dresses, but only the most confident man would.
I was even worse with George Michael. I had a huge fight with my late husband over George's sexuality. A girl wants to believe those tight white jeans and "Choose Life" shirt are worn for her.  I choose a life with you, George, I thought, the first time I saw him gyrate to "Wake Me Up Before You Go-Go." Then there was the men's restroom incident and, well, I let it go go.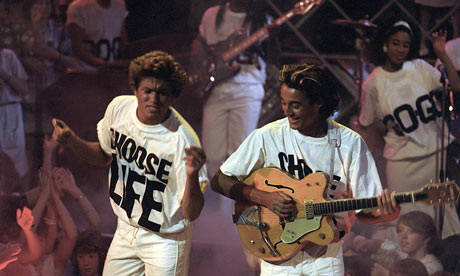 I don't want to stereotype but most of the best-dressed men I've met are gay. It was also a gay man who made me weak in the knees just from his scent. He understood the significance of layering fragrances. I've never smelled anyone so delicious.
The dating site I'm on provides potential matches based on a number of shared interests and characteristics. One recent match caught my attention right away because of his photos. I went to those first. One was a close-up of his face. There was no doubt he exfoliated and moisturized. His skin glowed. He also had perfect eyebrows and his teeth were white and straight. Teeth don't get that straight on their own–they screamed Invisalign. The second photo was taken in what I am sure was his living room. It was so tastefully done that Nate Berkus would be jealous. The third was a shot in the kitchen. He was preparing something and the plates were colorfully decorated for a lovely presentation.
He was my kind of guy and I read his profile.
I'm bi. I've had great, intimate and lasting relationships with men and women. I am especially interested in meeting open-minded and compatible women through this site, and am open to the possibility of things evolving into a deeper or longer-term relationship.
OH MY GOD. How did they know?
A little further down he described his favorite things books, movies, etc.
Shows (Broadway)
Book of Mormon
Hairspray
Shows (TV)
Oz
The Big C
Modern Family
Cut it out. I like all those too.
I guess what I'm saying is I like a well-groomed man. Not a fan of the term, but Metrosexual is probably right. I'm hoping for a guy who doesn't mind the occasional pedicure. Who would eliminate the unibrow. A man who uses hair products and a lint brush.
A straight guy with a little bit of gay.
Sebastian Update: We met for drinks. It was slightly awkward at first—we both came into the date with high expectations. Once we relaxed the evening was delightful. He was charming, funny and interesting. We plan to see each other again. Oh, and his accent rocks.
"Gay men are clean, well-dressed, have impeccable taste and smell good. If it weren't for the sex, I could be gay." Neal