I met Daniel after several email exchanges and a phone call. It was during our conversation that he shared his love of seafood and I told him of my recently acquired taste for raw oysters. You couldn't have paid me a million dollars to try them in the past.
Daniel was an interesting guy. He had an exciting job at a major television network and the stories he told during our initial conversation were riveting. He worked with celebrities and had the inside scoop on what they were really like.
Yes, I read The New Yorker, but I also find a juicy People irresistible.
Oh shut up, we all have guilty pleasures. Love you, Bethenny.
Daniel picked Grand Central Oyster Bar  for our first date. I've been told it has the best oysters in the city so I was pleased with his choice. We met at the clock and Daniel did not disappoint in looks or dress. Tall, handsome and stylish—the trifecta of first impressions.
The restaurant was not what I expected. Crowded, noisy and ambiance that was more diner than dining. A surly host seated us and a brusque waiter took our drink and then dinner order.
I guess when there's a captive audience of hungry travelers a welcoming staff isn't a priority.
Although the atmosphere did little to set the stage, there was a palpable attraction between us. A sexual undercurrent that made the restaurant bathroom scene in Unfaithful seem almost like a logical alternative.
Except it was Grand Central.
The chance of a homeless person bathing in the washroom sink was a distinct possibility—might be a buzz kill.
Once we finished our meal (oysters were amazing), Daniel suggested we get a drink at The Campbell Apartment,  a cool bar with an interesting past.
He asked our sullen waiter for the bill and then immediately excused himself to the men's room before it had arrived.
That's weird.
I looked at the check on the table.
Does he expect me to pony up? Did he walk away so I'd look at it?
I was not going to pay. Daniel asked me out, it was a first date and I've never paid a bill or even a portion of one in my life on any date, first or otherwise. I disregarded the timing of his departure and when he returned he handled the check.
On to The Campbell Apartment.
Again, big sexual chemistry and we openly flirted. Then Daniel kissed me. It was a great kiss but we were moving too fast. One more cocktail and I would be looking for a dark corner for a heavy make out session.
Don't judge. You've been there too.
I called it a night before hands were victorious over brain. Daniel asked for the check and then excused himself—AGAIN.
What the fuck? Seriously? On a first date?
It was waiting for him when he returned and he paid without hesitation. We kissed goodnight—excellent again—and he said he looked forward to our next date.
Maybe I was wrong?
A week later he invited me to Cleopatra's Needle,  a bar on 92nd and Broadway that featured live jazz–a favorite of the NYC jazz community. The place was packed and had a cool vibe.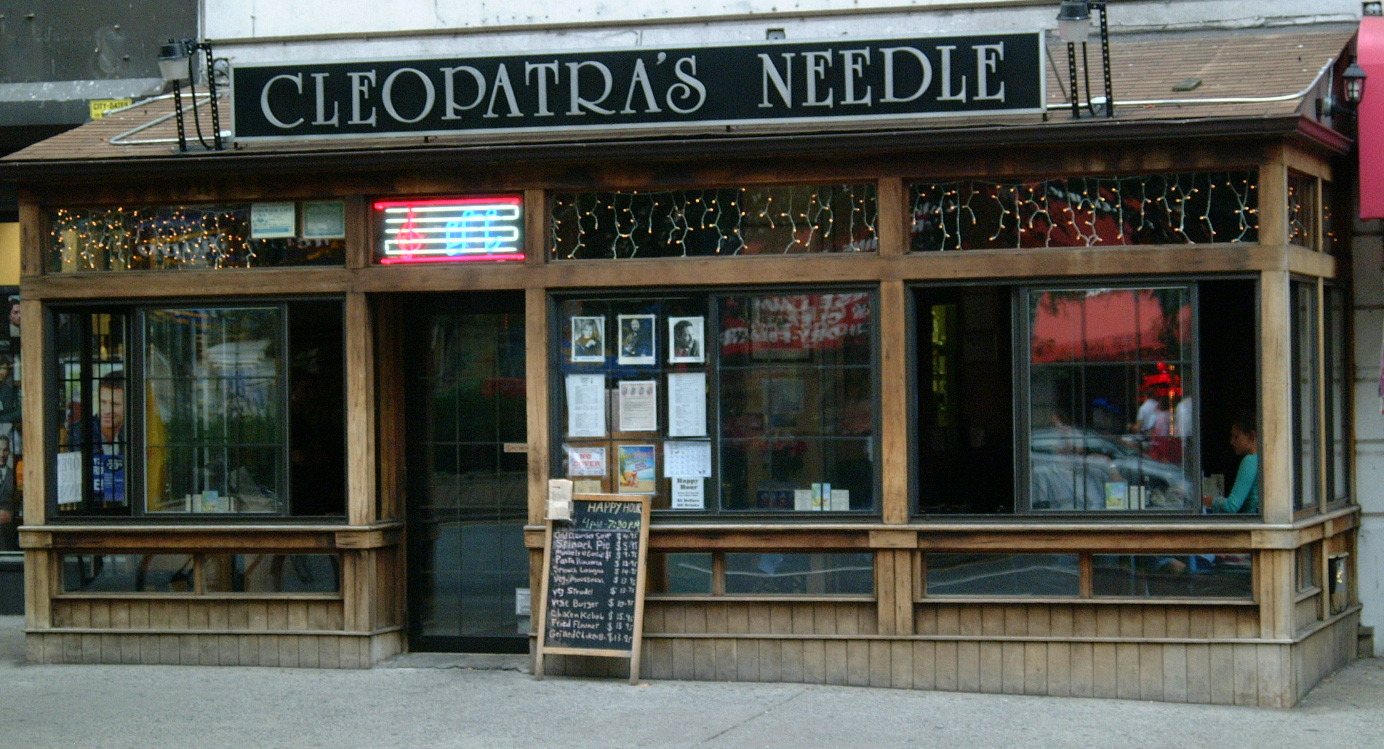 There seems to be an organic "cool" to every jazz lover I've known and Daniel was no exception.
We cozied up to the bar and each other, had a couple of drinks and listened to the music. Another great evening with huge sexual undertones—then Daniel asked for the bill.
AND HE DID IT AGAIN.
For confirmation I decided to test his exitus opportunus.  I pulled out my credit card and when he returned I put it on bill.
"I thought I'd pay this time." I said, and studied his face.
"Are you sure?"
Not the response I was hoping for so I upped the ante.
"Well, I've never paid for a date in…my…life, but I've been thinking it's only fair. You got the last one, it's my turn. So how do you feel about that?" There was plenty of emphasis on "feel" as I hoped that he'd understand that  feeling strongly one way or the other was expected.
"I like an independent woman and love to be the first at anything," he said with a wry smile as he squeezed my upper thigh. I think he was even more into me than before.
Ew.
With that reply, Daniel left his Sexy in the bathroom.
A quick peck and I was headed home. We wouldn't go out again, I decided as I strode towards my street. It wasn't so much that he let me pay on the second date; it was that it confirmed that he'd expected me to pay some portion on the first.
Daniel followed up with nice texts over the next few days. I ignored them. He called. I didn't answer. Finally he left a message and I could hear that he was hurt. He asked if he'd done something wrong and would I please let him know why I'd pulled away. I called him back and explained. I told him I was struggling with my "men always pay" dating mindset. That I'd even written a post about it, and as much as I like to think of myself as an independent woman, it bothered me that he didn't protest. I even mentioned his strategically timed potty breaks.
Daniel calmly explained that he went to the bathroom because he had a long trip back to the Upper East Side where he lived and we had been drinking. He explained that after dating for 30 years in NYC he'd met many independent women who insisted on paying. He'd actually had heated arguments with some and didn't want to experience that again.
Cheap or evolved?
"I've learned that when a woman wants to pay, let her. I'm done fighting over the bill."
It made sense, but I still needed some time to decide if I believed him. I asked that he give me some space so I could process everything.
The "space to process" is one of the lamest things I've ever said. If a guy said that to me, imagine how much fun I'd have on this blog lambasting the use of that tired old cliché.
The truth? I liked Daniel and it was rare–almost nonexistent–to feel sexual attraction to any of the men I'd met online. I was trying to figure out if I could be with a guy who expected me to pay on a first date.
A week later he sent me a text: I'd like you be my guest sometime this week. I miss your smile.
He missed my smile? Aww.  Of course I accepted.
We met for a movie on Friday evening at a theatre close to my apartment. Daniel was waiting in the lobby with the tickets. Whew, I was afraid we'd be standing in line and nature would call.
We went to see The Raven. It wouldn't have been my movie of choice but I was his guest. We passed the snack bar and Daniel didn't ask if I wanted anything.
I always want something.
Once inside the theatre he inquired. He was going to get a bottle of water for himself. I asked for a Diet Coke, but told him no worries if the line was too long.
The line should never be too long.
Ever.
No matter what.
And he said it was.
Hmm, cheap or evolved?
Daniel sat next to me, took my hand and smiled.
"You know, with the amount of commercials they show before a movie you'd think the ticket prices would go down."
 Yep, cheap.
"He's so cheap, he's got the first nickel he every made." Something my grandmother, Aili Bennett, said regularly about anyone she suspected might be cheap. It's genetic.