Urban Legend: Married After Meeting Online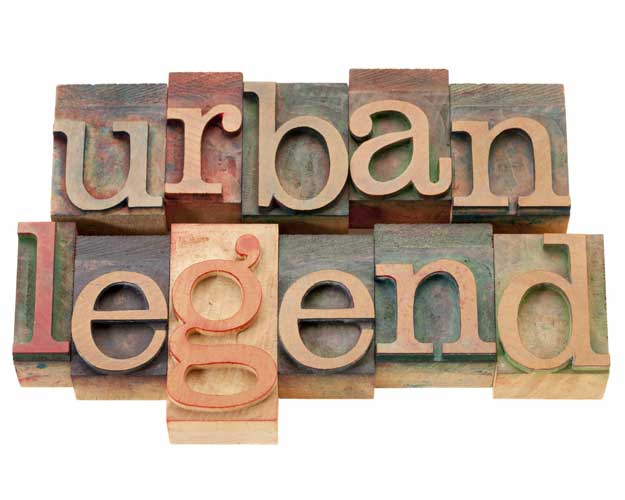 "My sister works with a woman whose cousin's best friend's uncle's son's former college roommate was online dating for two years and had so many awful experiences he was just about to give up. The day before his subscription expired he contacted a woman who was new to the site. They went on one date and just knew. They were married six months later and are in a perpetual state of bliss."
How many times have you heard some version of that statement?
I know, everyone "knows" someone but do they really know them, know them? Have they met, witnessed the match firsthand? I've asked the storytellers and it's always some form of, "Well, not exactly."
I had begun to think this was folklore. Urban legend. A story that kind-hearted people created to give their seriously desperate single friends the wherewithal to push through the pain and continue on another day in the wilds of online dating.
I knew no one who met and married after meeting online. Seemed to me it was about as likely as stumbling upon Bigfoot while hiking through the Redwoods. Not that I'd ever consider hiking—a ludicrous undertaking. "Let's just roam around, get eaten alive by mosquitos, sweat profusely and then turn around and go back."  I ask you, what is the purpose?
Alright, I'll get back to the story.
I'm currently visiting my hometown.
It's sometimes hard–memories are everywhere. I do enjoy seeing old pals and family and had an opportunity to meet up with my dear friend from college.
Jeanne had some big news to share.
A little history.
Jeanne and I met during our freshman year. She was a friend of two girls who were my suitemates. I couldn't stand her on sight. Blonde, beautiful and drove a Camero Z28 with the vanity plate, ClassZ (yep, that's what it said).
She roared up to the dorms and started unloading her stuff. It was packed in Gucci luggage. She even had a trunk. No lie.
Well, well, what have we here? It seems Princess has arrived.
My ride was a little different.
My luggage, as well.
We both liked the same guy, a pre-med student named Bill. Back off, Blondie (um, I was a brunette in those days). After despising her for a month we ended up alone in the suite after drinking too much at a football game.  We finally got to know each other. By the end of a couple hours of nonstop laughter I told her, "I'd rather be your friend than Bill's girlfriend." She agreed and we both quit pining for him.
Score one for girlpower!
We were best friends–pledged the same ridiculous sorority, broke all kinds of rules, sang The Cars, "My Best Friend's Girl" at the top of our lungs while spying on our future husbands during practice. We both married football players.
I am her sons' godmother and she is my daughters'. We both divorced the jocks and when I met Neal she was one of his biggest fans. I wanted her to find love as I had and she tried for years with no luck, but intrepidly kept looking. I admired her determination.
So, we met the other night to catch up and guess what?
She met Him.
We had some sangria and tapas at Firefly and then her perfect man, Tom, joined us.
Here are some highlights from our conversation:
I was on three different sites for more than two years and dated lots of women. None of them felt right—like I was home. There was always a missing ingredient and then I met Jeanne.
I searched and searched to find the one that had all the characteristics I was looking for. When I found Tom, he said, "Everything you're looking for is standing right in front of you so what are you going to do now?"
She walked in the door on our first date and I knew. This was the woman I was going to spend the rest of my life with. I was just so sure.
After we introduced ourselves he left to let the hostess know we were ready to be seated and as I watched him walk away,  I said aloud, "This is a keeper."
After several dates I told her, "I don't want to waste any more time looking for other women. I wanted her to know that my words matched my actions. I said I wanted a committed relationship and I did. I know most guys say that but I don't think they're serious. I was.
He tells me I'm beautiful and sexy every day. Whether I'm dressed up or meeting him after spending two hours riding my horse. I spent a lot of time kissing frogs to find him but it was worth it.
I'm glad those other guys couldn't see what they had because I wouldn't have her now if they did.
I loved listening.
They are in the process of planning a wedding because, well, at our age it's time to get on with it.
They are considering renting a villa on a working winery in Tuscany–perhaps by fall. I hope to be there.
All weddings are lovely but there's something tender–a bit magical–about the union of two people of a certain age who've been battered around by love. Who kept plugging away when the odds were not in their favor. Perhaps that's the lesson one might take away from their story. Some may call it a silly romantic notion, but maybe when you don't quit looking for that elusive epic love, it eventually finds you. They've certainly given me hope.
So, this urban legend is true. I know someone who met and will marry because of online dating.
I guess I'll have to rethink my position on Sasquatch.
And the Loch Ness Monster.
Even the Chupacabra.
Just don't get me started on rats in the toilets. Some urban legends are too freakish to entertain.
Congratulations, Jeanne and Tom. You've earned the love you never gave up hoping for.
"Here she comes again when she's dancing 'neath the starry skies." The Cars, "My Best Friend's Girl"