This is not another tale of the perils of online dating. This is a love story—one of the purest I've every told.
After the experience last night I feel it is necessary to pay homage to two big loves of mine–NYC and Kate.
A person has to really want to live in the City. It tests even the most tenacious. Nothing is easy. Absolutely nothing. It's freakishly expensive, crowded and dirty. People are harried, lines are long and privacy is nonexistent. There's little time for the niceties that might accompany a life in other locales—sometimes manners are forgotten. That's why visitors often get the impression that New Yorkers are a cold and offensive bunch. I know I felt that way when I first arrived.
To me it was kill or be killed.
Slowly I've learned to understand the place. There's a rhythm, a modus to the madness of living here. I'm now one in this huddled mass. Finally I move like I belong. I've also experienced the kindness of strangers more times than I can count. Over and over I've witnessed people helping others when it would've been easier to just keep moving.
Last night was the perfect example.
Now on to Kate.
I adopted her just after my husband (Neal) and I were married. She was a puppy mill rescue—a designer dog hybrid mix of Papillion and Toy American Eskimo. The last thing we needed was a pet at a time when we were determined to live the least complicated life possible. He'd had one round of one of the worst types of cancer and knew his life would be shortened. We wanted to enjoy our newfound freedom and felt we'd earned it. Our four children were either independent or very close to that place.
BUT, there was something about her that I couldn't resist. She sat quietly on the side of the pen while the other puppies of various breeds rolled around doing what baby dogs do. She studied their antics inquisitively but without any interest in participating. When I held her she was timid and shaking. She wouldn't make eye contact. Lord knows what experiences she'd already had with a start in the horrible place she was born. I took her home, named her Kate and prepared for the reaction from Neal.
My dogs had always slept on my bed. Neal abhorred dog hair and bought lint brushes in bulk. Here were the things I told his disapproving face:
Kate will sleep in her kennel.
I will take full responsibility for her care.
I will train her so that she is the most well behaved dog on the planet.
I love her and she's damaged. I want to give her a life where she doesn't have to be afraid.
It was the last statement that got to him.
The first night she whimpered in her crate. Neal was a light sleeper—I apologized and told him to ignore it. She'd become accustomed to her kennel, I assured him. I could sleep through a building implosion and drifted off immediately. In the morning I awoke to a furry ball next to me.
"It was cruel to let her cry. She's in a strange place and scared," Neal said with a judgmental tone. I had morphed into Cruella de Vil and Kate slept with us from that night on.
When Neal accepted a position in Russia, Kate went too. She didn't make a sound in the cabin on that flight. Her eyes never left me as she rested in her carrier. I was her Person.
"Where I go, you go." I told her for the first of many times.
Russia had a horrible stray dog problem. On the first morning, Neal took Kate outside on her leash and a pack of strays (living outside our apartment) attacked her. He had to kick them off and thankfully she was unharmed.
"THOSE FUCKING DOGS ATTACKED HER," Neal bellowed, his face ashen (and he rarely used the F-word). "Don't unpack, I may've bitten off more than I can chew in this hellhole."
He was serious. We were in over our heads—it was cry or laugh. I suppressed a giggle as I watched him roughly rub the scuffmarks from his Tod's loafers.
Don't mess with Neal's family or his clothing.
Kate was fearful every time we exited the building. She looked at me for reassurance as we got in the elevator each morning.
"You're alright, Kate. I won't let anything happen to you."
I made friends with the wild dogs through food and Kate was never attacked again.
When Neal's cancer returned after 18 months in Russia we came back to the States for what would be his final months.
After his death, well, I grieved.
I wanted to die so the pain would stop. I was virtually a shut in and spent two years writing a memoir, a love story, about my time with Neal.
The sounds a person makes when grieving are primal and scary. I know Kate was afraid but she never left my side.
I was her Person and it was time to help me.
When I'd completed the manuscript I had to do whatever I could to get it published. It was the last thing I could do for Neal.  I figured if I immersed myself in the literary world I'd learn the ropes. Kate and I drove cross-country from Las Vegas to the Big Apple on my mission. We hit a stretch of torrential rain like I've never experienced in Illinois and she was terrified—her eyes glued to me as I attempted to keep the car on the road.
"You're OK, Kate." I said in the most soothing voice I could muster.
Fast-forward three years.
Kate is now a city dog. The sounds of the streets—horns, jackhammers, sirens that once panicked her are now routine as we make our way to Central Park each morning. The dogs are allowed to be off leash until 9 am. We trek through the bramble they run and sniff and do what dogs should do. It's their hour of freedom in the concrete jungle. A year ago I adopted Nigel, a Norwich Terrier rescue. When I got Wonder Boy he was obese and neglected. We're a pack of three now and Nigel is trim, and happy. He looks at me with so much love it's palpable.
Yesterday was Mother's Day. I started with brunch at Sarabeth's with my glorious daughters, my NYC surrogate mother Karen, and her husband Mark (he's the famous face in my blog post The Politician). Here's a photo of my "Mama" and me.
The afternoon was filled with the stuff my girls and I do on the weekend. They brought their laundry over and we went to Trader's Joes. They even helped me pick up a new coffee table I'd ordered—circling the block in my car until I came out dragging the huge box. One of those Pain In The Ass NYC experiences that makes one wonder, why do it? I gave them my old coffee table and when it was time to leave (they share an apartment in Midtown) we propped my apartment door open and made several trips to the elevator. I told Kate and Nigel to stay in the apartment and didn't give it another thought as we struggled with large laundry bags, groceries and a coffee table. I hugged them goodbye, the elevator doors slid shut and I had peace. It was around 8 pm.
I closed the apartment door, stretched out on the sofa and called a friend. After thirty minutes a call beeped in from the front desk.
"Melani, Kate is in the elevator," said Pedro. There's a camera in the elevator and the doormen monitor activity on the computer screen. "She's coming down with a delivery guy."
"What? I'll be right down."
I ran to the elevator and called Pedro again. "Do you have her?"
"No, she just ran out. I should've closed the door. I'll try to catch her."
I was frantic as I rode down the 15 floors. A dog running free on the city streets was going to die. I ran out of the building and looked for Pedro. He wasn't in sight. I started screaming Kate's name as I ran down my block.
Pedro called and was panting as he said, "I tried to catch her but she crossed Broadway and Amsterdam and ran up 72nd past Gray's Papaya. She's headed towards the park."
It was impossible. My dog had crossed those streets and survived? The traffic is brutal and people are hit regularly at that intersection. How did she do it?
I raced to 72nd screaming her name and yelling at anyone who passed, "DID YOU SEE A BLACK AND WHITE DOG?"
Most said no but one guy yelled at me as I ran, "She's ran down Columbus and crossed over at 71st and is heading towards Central Park. Nobody could catch her, she was really moving."
I called my daughters as I ran. I was hysterical and hyperventilating. "GET HERE NOW, KATE GOT OUT AND SHE'S IN CENTRAL PARK. GET IN A CAB. MEET ME AT THE PARK."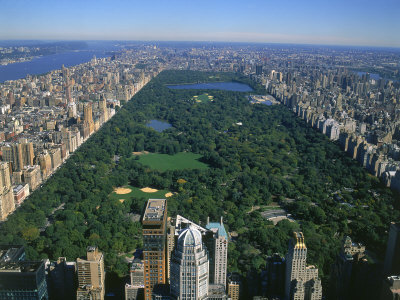 Once in the park I continued to call her and ask people if they'd seen a little black and white dog. Most had not but one woman told me that two guys on bikes were trying to catch her. That was not good news. I knew she'd keep running if bikes were in pursuit.
My daughters arrived and we did what we do in a crisis—worked as a team. They went one way and I the other calling for Kate. A NYC Parks employee, Jamie Warren, stopped me and volunteered to radio other employees to keep an eye out.
"Tell them if they see her to be calm and call her to them. If they try to grab her she'll be gone."
"Would she come to your voice even from a car?" Jamie asked, and I told her Kate would.
She was done working for the day but instead of wishing me luck and leaving she volunteered to drive me around the park so I could yell from her car—we'd cover more area that way, she explained.
"I'm a dog lover, I'll do anything to help."
We went the opposite way that my daughters had gone. Jamie drove as I yelled Kate's name from the window. We stopped and asked every person we passed. Each one said they'd stay in the park and help in the search. One man named Richard was on a bike. He told us he'd talked to my daughters when he was walking his dog. Once he learned of the situation he took his dog home, grabbed his bike and flashlight and came back to the park to help in the search.
An hour later we still hadn't found her and at that point I didn't know what to do. Kate was micro-chipped and had a tag on her collar. I prayed that someone would find her and call.
I thought we would continue on foot through the more remote areas of the park. The girls had already been through the bramble around the lake near 72nd. Jamie told us it was not a safe thing to do.
"You can't do that at night. It's too dangerous. I'll drive you around as long as you want, but don't go on foot. She's in the best city in the world for lost dogs. Someone will find her. They'll call. New Yorkers love their pets."
I was going to do it anyway and then my phone rang.
The magic words were spoken.
"We have your dog."
"This is Kevin from The Plaza Hotel. She just ran up and I caught her."
Where else would MY dog go but The Plaza Hotel?
Is this a New York City story or what?
The amazing Jamie Warren drove us to The Plaza where we found Kate inside the doorman booth, curled up on a cushy dog bed (as one would expect) with a large bowl of kibble and another of water in pristine silver bowls.
She was terrified and exhausted but safe.
I knew then why she'd made her way there. When we were moving the stuff to the elevator she slipped out. She likes to go down the hallway and sniff around my neighbors' doors. I didn't notice that she'd gotten out and all she knew was we were loading things into the elevator and my daughters were leaving. Once she heard the elevator close she must've thought I was in it as well. Meanwhile I was in my apartment on the phone and hadn't realized she wasn't around. When a delivery guy brought food to one of my neighbors she went to find me. She rode the elevator down and hesitated for a moment when Pedro called her. He said she looked at him and then the open door and took off. She knew exactly where she was going: to my daughters' Midtown apartment where she thought I was. When we walk to my daughters' we cut through the park and come out at the hotel near Fifth Avenue and Central Park South. We walk past the hotel and cut over on 58th.
I've walked this route dozens of time with Kate. She knows it well.
Once I had her in my arms, much to the annoyance of my girls I became a reporter. I knew this was going to be my blog post today. It was too good to pass up even when the subject matter had nothing to do with online dating.
I pulled out my phone and shot a photo of my hero, Kevin.
The girls rolled their eyes and snickered. Everything was back to normal.
They told me that while they were searching they had their game faces on as they saw the outlines of people stirring in the brush.
"Bring it on, motherfucker," said my youngest with her fists clenched, "You have no idea what you'll be facing with my sister and me."
"That's right, we're on a mission," replied my oldest (I told you in the last post, we know how to pull together when times get tough).
Jamie, Parks Employee Extraordinaire drove me back to the apartment with Kate in my lap. I couldn't thank her enough but she wouldn't hear it.
"It's no big deal," she said matter of factly as I hugged her and said goodbye.
Pedro greeted me with "THANK GOD" as I came into my building. He told me the story from his end. He'd come within inches of being hit by a taxi while chasing Kate.  His knee buckled as he bolted after her.
What a guy.
Last night I saw an example of the best in people—strangers and those I know.
My seriously fierce daughters who searched the park because they love her too but also know that losing Kate would be something I wouldn't recover from. There's only so much loss a person can take.
The strangers on the street who tried to rescue a loose dog from what would be a sure death.
Richard, the man who went home and got his bike and flashlight.
Pedro, the best doorman in the city.
The guys on their bikes who chased her.
The people in the park walking their dogs who said they'd stay and keep looking.
Kevin, from The Plaza who finally caught her.
AND the best Parks employee in the world–the incredible, Jamie.
Kate crossed some of the busiest streets in the city: Amsterdam, Broadway, Columbus, Central Park West and Central Park South. She crossed the park from west to east and possibly came out on Fifth Avenue. How did she survive?
I may spend lots of time on my blog complaining about the idiosyncrasies of New York City, I might gripe about the single men that I've met here, but there's no better place to live. It really is the greatest city in the world and I'm head over heels, smitten to my toes, in complete and utter love with my new hometown.
"If you can only have one great love, then the city just may be mine. And I don't want nobody talkin' shit about my boyfriend." Carrie Bradshaw
One final note: Pedro, Kevin and Jamie will receive the maître d's handshake because as much as I consider myself a New Yorker there's still some Vegas in me and that's how we say thanks.